You must be on your phone right now as you read this post. Take a quick look at your app layouts and see how many apps are built-in, how many you downloaded yourself, and how some of them have become your go-to defaults without which you won't be able to survive.
This is exactly how much we are addicted to our phones and these apps in general. From Instagram to Snapchat and now mobile gaming being the latest addition, every application fulfils its objectives and belongs to a different industry yet the same marketplace.
According to the latest figures posted on Statista, it is estimated that by 2021 the global mobile app revenue will go up to $693 billion. This goes on to show that many internet companies would be willing to invest and enter this market of mobile applications as an added feature under their extensive list of interactive platforms.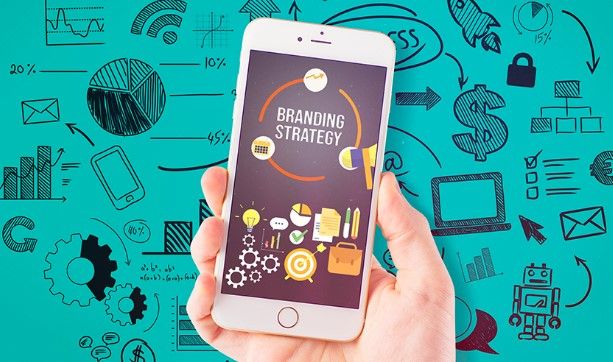 8 Effective Mobile App Branding Strategies
Therefore, here are eight effective mobile app branding strategies that are guaranteed to work if you follow them as a basis of getting a firm grasp on the application market.


1. Decide the Logo and App Icon
What is the first and foremost thing you notice when you are scrolling through the app store for a new app? The answer is that you notice the app icon. Though not that big in size, it is one thing that is extremely important and crucial for representing the app as a standard one.
App logos are the core element of branding. It is a symbol that the users associate to more than text or other mentions. One best example is the Snapchat logo. The infamous yellow background with the white ghost emoji is one of the most striking logos in the world.

2. Use Keywords to Your Advantage
Branding is a consistent process. It is not like you can choose to do it one time a year and forget it for the rest of the months. So many trends change throughout the year, especially when it comes to technological advancements and other internet aspects.
In order to keep up and stay relevant in the market, your branding should be on point, and keywords can be a major help. Any keyword that associates to your market, industry, the field of work, and what your app does, is useful to you. For example, many people search 'build your own furniture' before they land on IKEA's app.


3. Get Creative with Your Name, Slogan, and Style
Naming your brand app is not like naming a second child, where you can easily rhyme it with the first child's name or utilise the available family names. Here are many aspects that go into naming your brand app. For instance, you have to check if the name is available on App Store and Play Market.
The reason being that if it is not available, then you may have to consider other name variants and associating keywords of your brand. One such example is the Ponds skincare brand has launched an app called My Skin Advisor Live (SAL). The app works to promote the main market domain of the Ponds products, which is skincare.

4. Branding through Video Content
You are present in an era of YouTube, Snapchat, and Tik-Tok doing immense business because the video content has broken barriers for branding and advertisement for other apps on their platform. Any short video played as an ad in-between a video is an excellent way for branding, advertisement, and promotion – all at the same time.
In fact, Snapchat did the very same thing. They play short videos as ads between videos where they show an app user trying on different filters with background music, making one of the most notable features of Snapchat prominent for about 10 seconds.

5. Personalisation and Onboarding Tactics
Personalisation and onboarding tactics have a mutual objective, which is to make the user feel comfortable. If the user gets into an app and immediately feels like he/she has entered a new and unfamiliar environment, chances are the user will not use the app again. The first instinct would be to feel unsafe and leave the app immediately. It is why various times, brands launch similar app functionalities on their website. By the time their customers are familiar with how things work, they launch the app to make the onboarding transition from website to app relatively easy.

6. Develop Original Custom Graphics
Graphics are the most important and essential element of the app. We live in a digital age where the attraction, imagery, visuals and color theory play a critical role. To develop a strong brand app, you need to have your originality and individual elements if you want to attract a wider audience. It is important to understand that users are increasingly educated now. And ripping off ideas that are already in the market will not take long before a user picks up on it, and you end up losing your brand credibility.
From logo, mascots, and advertisement illustrations to the internal GUI of the app, everything should offer a never seen before user experience. The best example is of the latest mobile gaming app Player Unknown's Battle Ground (PUBG), which is yet another battle royale game but is popularly known amongst games for its distinctive and original graphical features as compared to other similar games.

7. Gamification of Real Life Situations
Gamification refers to applying gaming dynamics to non-gaming and real-life situations. Features like leaderboards, scores, challenges, collectibles, and prizes are a great way for people to engage with a brand's app. These type of apps offer significantly gamified features that make it an overall cool app for competitive runners and fitness enthusiasts.

8. Providing Consistent Help & Support
Last but not least is providing consistent help and support. Real branding is not just an external attraction with hollow insides. It's about catering to your users and client base just as equally great. Mainly, branding concerns with the user experience for providing help and support.
To assist during that experience, if something goes wrong, is a core element catering to how the user feels overall. Otherwise, your branding strategy can even be deemed a failure if, by the end of it, the user couldn't get through with a query or confusion he had.


Conclusion

This digital age is only going to take the app market further and far more advanced than it is now. Thus, these general tips and tricks are sure to work at all times if followed and implemented. As the market will continue to regulate and customer preferences will also change with time, but having a strategy based on core basics is sure to work.