- According to Comscore predictions, by 2020, 50% of all online searches will be done using voice search.

- In 2018, BrightLocal found that 58% of consumers used voice search to find information on local businesses.
- BrightLocal also found that 46% of consumers use voice search on a daily basis in order to find local businesses.
- People who use voice search use it on a regular basis. In a survey by Campaign Monitor, 41.8% of respondents who used voice search said they used it every day. Meanwhile, 21.3% said they used voice search at least once a week.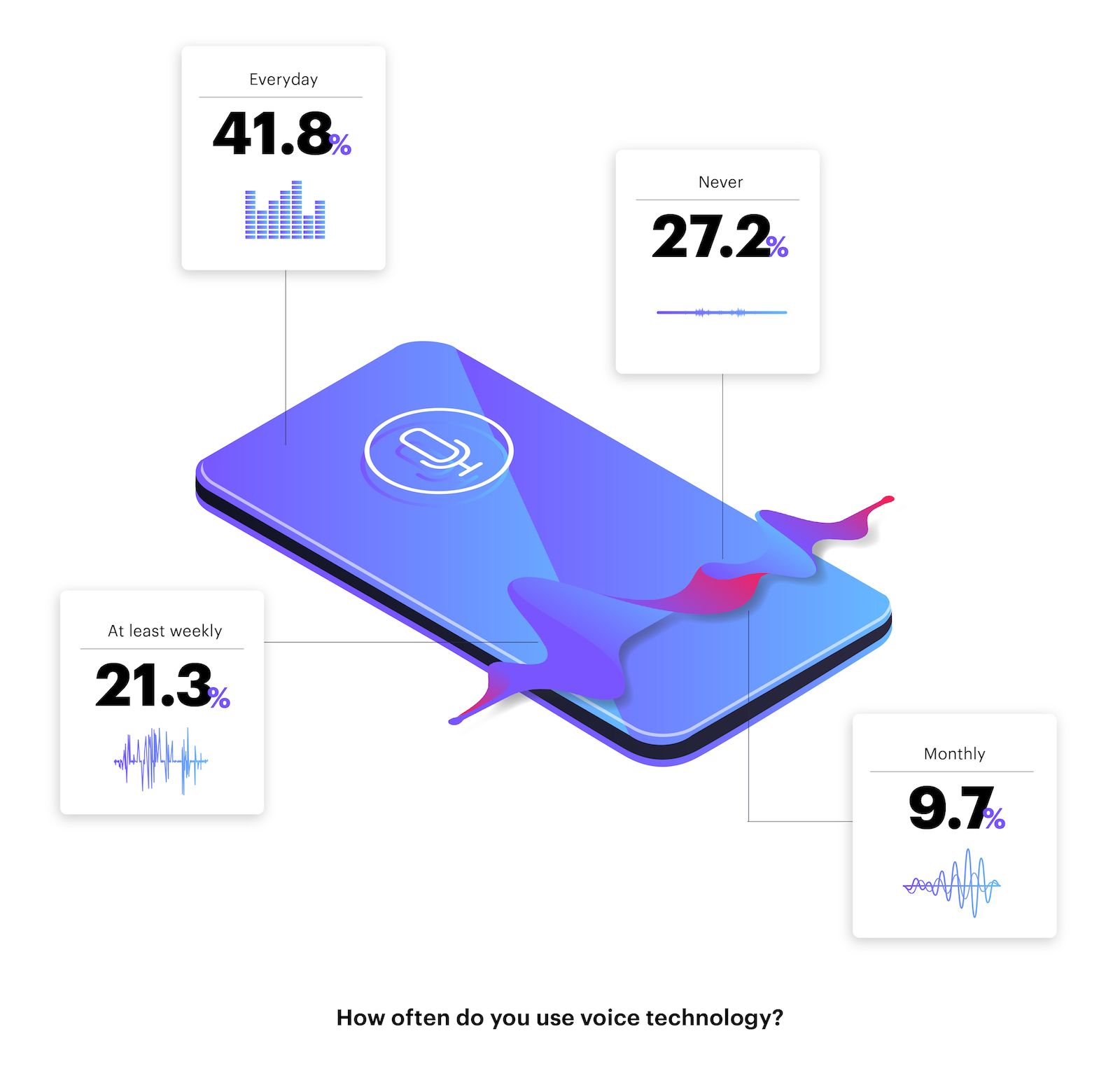 - Data from Google indicates that 20% of all online searches are performed with voice.
- A report from Marketing Land states that ownership of voice assistants (also known as smart speakers) in the US increased by 78% in 2018, equating to over 118 million voice assistant devices in homes across the country.

With all this data, it is undeniable that voice search is changing the way consumers interact with brands. The question is: how will this change affect businesses?
In this post, we'll discuss voice search, how it's used, and how it will impact businesses in 2019.

The rise of voice search
Voice search is a technology that enables the user to perform an online search by using spoken (voice) commands instead of typed commands. For example, a user can simply activate the voice assistant on their device and say "What restaurants are near me?" out loud rather than typing the query on a search engine.
Google introduced the first voice search app for mobile devices in 2008, and named the app "Voice Search".
Apple followed in 2011 with the introduction of Siri, a digital assistant with voice search capabilities.
In 2014, Microsoft released Cortana, its own digital assistant. The same year, Amazon released the Amazon Echo, a smart speaker powered by Alexa. Similar to Siri and Cortana, Alexa is a digital assistant with voice search functions.

The impact of voice search to businesses
The voice tech revolution is upon us. Voice search has become a much more significant part of consumers' lives. Since consumers are the lifeblood of businesses, this revolution has major implications in the world of business.
Here are several ways voice search will impact businesses in 2019


Innovating for voice search
Voice search usage has grown so fast that it seems like businesses haven't been able to catch up.
Uberall, a marketing SaaS provider, analysed more than 73,000 businesses and found that the vast majority of them were not ready for the voice search boom. Only 4% of the businesses could reach consumers who conducted local voice search queries.
Businesses will need to adapt if they want to keep up with their consumers. Just as businesses optimised their digital designs and adopted mobile-first mindsets during the initial rise of mobile, they'll need to optimise their strategies for voice search in order to connect with their target audience.

Incorporating voice search into SEO strategies
As previously mentioned, experts predict that by next year, half of all online searches will be performed using voice search. This means that businesses now have to consider voice search when formulating their SEO strategies.
Businesses will need to optimise all their digital platforms for voice search. They'll have to improve their websites, user interfaces, and even social media pages so they can avoid alienating consumers who use voice search.
When it comes to SEO, businesses have to start prioritising featured snippets. These are the results that appear inside a box at the very top of Google's search engine results pages (SERPs).
For their results to appear as featured snippets, it's important for businesses to create content that answers specific questions asked by their target audience. Businesses can organise their content in a Q&A format. One of the best ways they can go about this is to create a dedicated FAQ (Frequently Asked Questions) page on their website.
Since keyword strategies for standard text searches don't always apply to voice searches, business will also need to look at adjusting their keyword research. For instance, when performing a text search, a user might type "weather forecast today". To do the same search on voice, that user would probably say something like "What is the weather like in my city today?".
Businesses need to start paying attention to how their consumers talk. This means taking into account two things:
The most common words that consumers use when making voice search queries
How consumers phrase their question


Emphasis on local search
The increase in the number of voice searches has, in turn, increased the importance of local SEO. This is especially true for small and medium brick-and-mortar businesses that mostly rely on foot traffic for their sales.
A lot of consumers who use voice search use it to get information on local businesses. Businesses can take advantage of this by optimising their SEO to tap into local consumers. Doing so will not only drive organic traffic to a business's website, but also bring actual traffic to their store—boosting their sales in the process.
Businesses can make these simple tweaks to their local SEO strategies.
- Updating their Google My Business Accounts
- Including local keywords in their content.
- Creating a separate "about us" page for each location (for businesses that have more than one location)
- Targeting their ads at local voice search users

Wrap up
Voice search is no longer the next big thing in business. It has already arrived, and it's definitely here to stay. There's no denying that voice search has a big impact on businesses across the globe. Which is why businesses should take it as an opportunity to move forward and connect with their audience in a better, more convenient way.
The advice outlined in this post isn't an exhaustive guide by any means. That being said, they are simple yet effective strategies that businesses can implement right off the bat without spending too much time, money, and effort.