Whilst the online grocery market has faced several initial barriers to adoption, it is clear the tide is turning, with the market predicted to grow to $4.2 billion by 2023.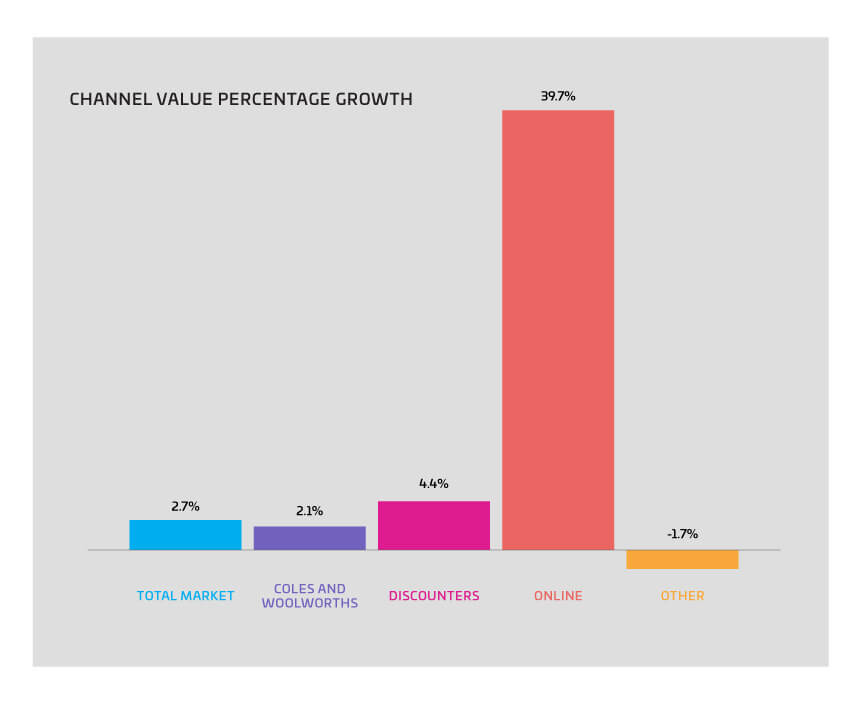 Discounters include Aldi, Costco, Chemist Warehouse. Online includes Coles and Woolworths online.
Source: Nielsen Homescan – The Nielsen Company

Here's why:
This trend is being driven by millennials, who last year spent 94.4% more than the previous on their groceries via online channels, significantly more than other demographics [2].
Consumer confidence is increasing as initial hurdles such as product inspection are being overcome. Fact: 293K more households are making fresh produce purchases online that this time last year [2].
There is also a noticeable difference in the total purchase amount between online and traditional bricks and mortar stores. Survey results revealed online grocery spend to be $186 compared to only $103 in store.
The main players in this space:
Not surprisingly, Coles and Woolworths hold the largest market share, representing a combined stake of 85% of total online grocery sales.
Brown & Greens: Grocery delivery app which delivers locally sourced produce and high-quality products, boasting a 2 hour delivery time or your groceries are free.
Hello Fresh: A meal delivery service, providing consumers with a recipe and all the ingredients to assemble it.
A Canstar Blue survey found that delivery/pick-up reliability, value for money and availability to be the biggest influences on customer satisfaction [3] in this space. Grocery shopping can be a time-consuming outing for many households, particularly if you have plenty of mouths to shop for. Thankfully, online grocery shopping can take the stress out of filling your trolley, as well as ensure that no extra goodies sneakily find their way to the checkout.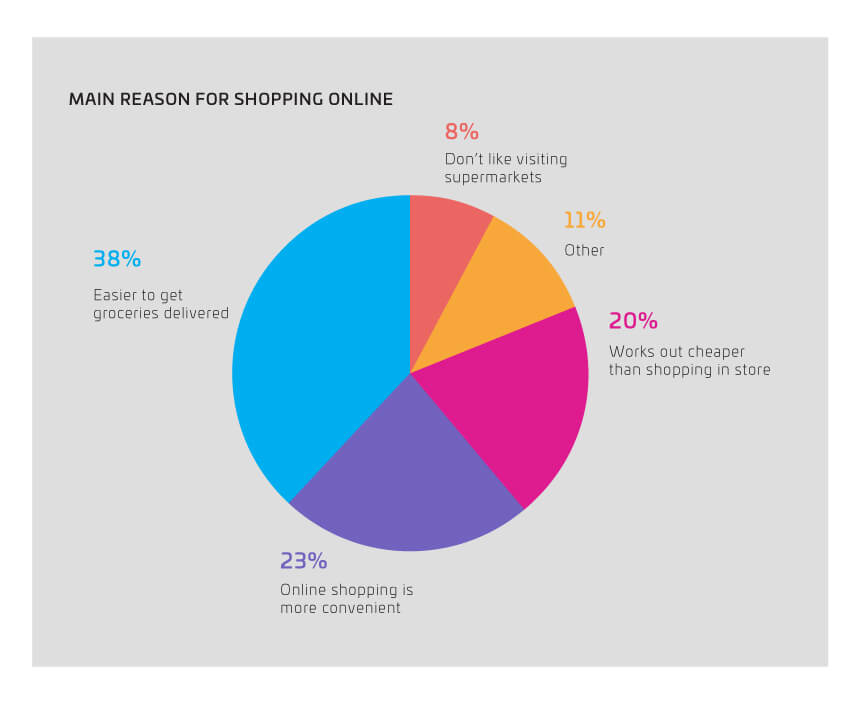 https://www.nielsen.com/au/en/insights/news/2018/aussie-households-growing-in-confidence-making-fresh-online-purchases.print.html
Will grocery delivery take off? Reach out to us and let us know what you think!