As we look ahead to 2018, we take a moment to look back on the unbelievable year that was 2017, and the achievements that made it such a memorable period of growth for our wonderful clients and collaborative team.
2017: YEAR IN REVIEW
January
Our lead developer, Nathan, transitioned to life in Japan, to continue making wonders for our clients remotely.
February
Our partnership with Learn to Fly was taken to the next level when they became a key stakeholder.
March
Our creative director became an executive member of the Docklands Chamber of Commerce.
April
We attracted a crowd to Future-proofing Your Business with Design, an event held as part of Melbourne Design Week.
Our new focus on international marketing for Australian businesses wishing to target overseas markets was revealed.
May
Mo Works gave back to the community as a partner of Hatch Quarter's Pre-Accelerator and offered our services to the winner of their startup prize.
We sadly said goodbye to our oldest team member, Elyse, who left to kickstart her career in journalism.
June
We received our second honourable mention on Awwwards for our custom web design and development.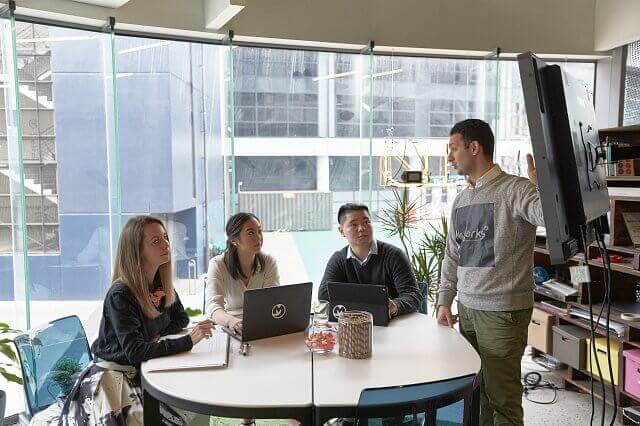 A few faces from our passionate team getting stuck into a brainstorm at Mo Works' headquarters in Docklands.
July
Our rapidly growing agency doubled its team since last year with more marketers, business strategists and web developers joining Mo Works.
August
Mo Works visited France and Jordan to explore new business opportunities.
We are proudly headquartered in the world's most livable city, again.
September
We tapped into the ICO industry when CanYa engaged us as its ICO marketing & PR agency.
Our Senior Digital Designer Mark relocated to Netherland—we really have our hands wrapped around the world!
October
We announced our support of Women in Aviation/Aerospace, together we aim to promote gender diversity in the workplace.
Our managing director, Ophelie, returned to our team after taking maternity leave.
November
Mo Works travelled to Singapore twice for The Blockshow Asia and Fintech Festival
We're now working in close partnership with our neighbours at The Sebel Melbourne Docklands as their marketing and PR agency.
December
We executed a successful marketing campaign raising over $12 million for CanYa
Our BDE, Samantha, ranked in the top ten for LinkedIn's Agency Influencer of the Year.
As 2018 kicks off, our team is all set to reach marvellous new heights. We're looking to expand and still recruiting:
Public Relations Coordinators out there, put your hands up! Community Managers with experience in Crypto, flick us a Telegram Digital Designers with project management flair, send us your portfolio! Wizard Web Developers, charm us with your coding skills. Please email your resume and cover letter to career@moworks.com.au, and check out our agency page to learn more about our outstanding company culture.